Guess who's back... Yeah, thats right, I've finally composed myself and dragged my stinking carcass out of the intoxicated liver-fuck that was my Christmas, Birthday and New Year, and I'm now rolling up my sleeved and preparing to hit 2008 with the kind of ferocity normally reserved for Newcastle fans with season tickets behind Sam Allardyce's dug-out. I realise that the tail end of 07 was a bit slack as far as Fantana Reports goes, but I'll endeavour to bring you a little bit more quality over the next 356 days. Who knows - it might actually happen.
So... thats all very well, but what have you got for us now?
, I hear you cry. Well let me cut to the Chevy Chase.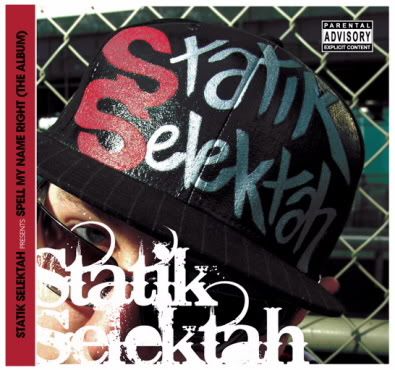 First up, registering strongly on the radar is the debut LP from NYC producer/deejay Statik Selektah. Now you may or may not know the name just yet, but
Spell My Name Right
hits all the right buttons as far as I'm concerned. I had mad trouble picking it up from around Brighton and had to cop it online, but its worth the search to get your hands on it. The list of guests he's managed to rope into appearing is pretty phenomenal. DJ Premier, KRS-One, Large Professor, Q-Tip, Joell Ortiz, AZ, Royce the 5'9", Ev from Dilated Peoples - the list goes on. The beats are all pretty tasty too, from the laid back
Stop, Look, Listen
to the Mike Tyson's Punch Up sampling
Punch Out
(see what they've done there) featuring Big shug. Anyway, picking up this LP if you haven't already got it would be a sure fire way to kick off 2008 in style, so go geddit!
I also picked up Termanology's Hood Politics V, but I won't offer my opinion just yet, as I haven't listened to it enough to do any review justice...
Right, moving on to video of the week - taking things over to the Westside for Ice Cube's Gangsta Rap Made Me Do It - judge this for yourself fam, but up here at Illwood Heights, I'm definitely feeling it.
In UK news, it gives me great pleasure to announce the return of
Dusty Crates Radio
after a brief hiatus. My man Last Skeptik will be uploading new shows on the rgular, so head over, slam a bookmark in that goddamn web address, and rest easy knowing your life is a great deal more complete than it was before you did it. And while I'm on the subject, check out Skeptik's
Under The Patio
for January. If you don't know, know you know.
Moving on to films. Whatever you do, don't waste an hour and a half of your time sitting through
I Am Bell-End
or whatever Will Smith's new flick is actually called. Nothing more than a yank rip-off of
28 Days Later
, with possibly the worst ending I have endured for a good few years. Its that shit that I thought I'd post a breakdown on here, but then I thought no, if you want to ignore my advice and watch it, then do. You won't get that time back though, ya heard! Oh, and don't get me started on the shithouse CGI...
Anyway, before my blood reaches boiling point and I spontaneously combust, I think I'd better mention the fact that my man
Vecks
from Genius Squad has a new track up on his myspace called Sunday Service, featuring Rup the Cnut and yours truly, pontificating on the finer points of the beautiful game.
Other things that are good, before I go: Jessica Alba in Sin City; My liver healing itself after the festive booze up; The new beat I got off Tom Caruana; Gigs in the French Alps in March;
Longusto
's forthcoming CD; Anticipation of the new Aliens vs Predator film (whether or not it will be any good is another question, but I live in hope); Call of Duty online (PS3 you Xbox chumps)...
Till next time.